Health and Social Services
Although resources are limited, PIO has for many years provided medical, dental and social worker services for the students at PIO. The provision of the services is from Khmer staff and a regular number of volunteer health specialists from both local and overseas universities.
Doctor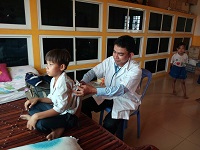 PIO is fortunate to have the services of a qualified doctor. Dr Chorn Vuthy is a recent graduate from the Royal University of Phnom Penh Medical school who is employed full time by PIO. His salary is funded by Just World International.
For poor families in Cambodia it is difficult to get adequate medical care. There is a shortage of doctors in the country and the cost of treatment and medicines can be an obstacle to parents seeking medical help for their children. By providing free and readily available medical treatment PIO ensures that its students can visit a doctor whenever they need to. Dr Vuthy provides primary care for the students. In cases requiring further investigation or treatment he takes them to a local clinic or hospital.
PIO also has regular visits from volunteer health professionals, especially student nurses from Australia who, accompanied by their supervisors, perform health assessments and provide basic treatment. Dr Vuthy liaises with those groups to ensure that children identified as needing further treatment are referred to him.
Dental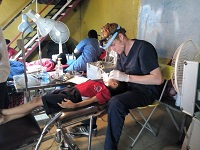 Poor dental health is a problem for many Cambodian children. PIO works hard to ensure that the children at its schools receive regular dental treatment and education in oral hygiene. PIO works with Healthy Kids Cambodia, a health NGO and the University of Puthisastra Dental School to improve the dental health of its students. Thanks to those organizations PIO now provides dental treatment at three levels
Level 1 - assessment of dental health, cleaning and fluoride
Level 2 - sealant, filling of back teeth
Level 3 filling of front teeth and restorative work
.
The dental treatment is carried out by senior dental students working under the supervision of teaching staff from the University of Puthisastra.
Social work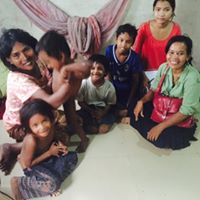 In 2016 there were an average of 20 families visited each month. The families visited are often very poor and are struggling to keep their children at school. Many are affected by chronic health and social problems which limit their ability to provide for their children. In working with each family a negotiated action plan is put in place. A plan which states what PIO can do for the family and the action required by the family to uphold their part of the agreement.
Just World International also funds the PIO social worker. The role of the social worker is to visit families where there is an unexplained absence from school, or there are problems in the home. The purpose of the visit is to facilitate the student's return to school and where possible assist the family with their problem. The social worker visits an average of 20 families per month.

For more information about these services at PIO visit the Statistics page.